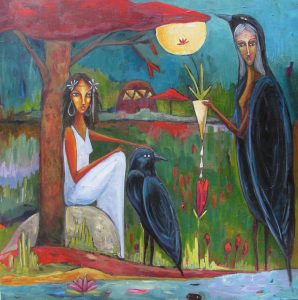 Heather Gerni creates each of her pieces through the process of Intuitive Painting. Neither the subject matter nor composition is planned. Instead, a natural evolution is allowed with each layer informing the next. Her paintings are vibrant and richly textured with these many layers.
During the intuitive process, stories unfold on the canvas lending way for Heather's dreamscapes and creatures to emerge and evolve. These stylized paintings often have a mix of both fantasy and representational elements. Her current obsession with horns and crows are found in her dreamscapes and creature paintings. She also paints abstracts on a variety of substrates including metal and wood. Most of her work is acrylic and/or mixed media.
Intuitive Painting is a passion of Heather's, and for the past several years, it has led her to teach this inspirational process to others. Much of her inspiration has been found from artists such as Flora Bowley, Anahata Katkin, and Jane Filer.
For more information visit: www.HeatherGerni.com or email: heathergerni@gmail.com