Art has always been central purpose for Nathalie… for as long as she can remember, putting images to paper, stone, and canvas, hours of sketching and exploring all mediums, was her favorite way to spend a day!
She attended Saturday morning art classes at the Cleveland Museum of Art. Sprinkling her college curriculum at the University of Vermont with art classes, she graduated with an Environmental Education degree. She shared her appreciation for the natural world with her students, encouraging them to help in the effort to protect the natural world.
The beauty of nature drew her away from the classroom and into the studio to recreate images of favorite places. A painting class with Joseph Solitario at the Cleveland Institute of Art solidified her passionate rapport with paint on canvas.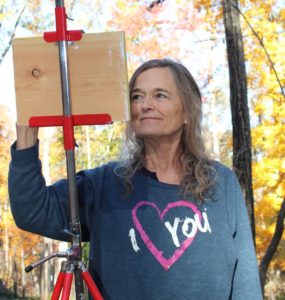 For more information about Nathalie Worthington, please visit http://worthingtonstudios.com/