A creative "type" born to a family who embraced the arts, Nathalie's childhood was filled with
much time spent with paint, clay, colored pencils, drawing, and art study. She surrounded herself with the paintings of her grandmother on her father's side, and the mosaic landscapes of her grandfather on her mother's side. Always keen on drawing, Nathalie studied the works of Durer, Escher, O'Keefe, Dali, and the Impressionists. Her art classes through college were riveting and pure joy… the math and science not so much. She earned a Bachelors degree at Goddard College in Plainfield, Vermont
Painting using acrylics on canvas, can be said to have truly begun at age 28 by taking a painting
course with Joseph Solitairo at the Cleveland Institute of Art. Joseph taught her all the
techniques: canvas stretching, priming, and toning and initial compositional lay out, perspective, drawing, color theory, intermediate washes, and final glazing for each painting. This one class launched her on a painting journey that would wind through the next three decades. Despite the conscious decision not to count on her art for financial support, she painted almost every day and sold quite a few. Her early days were spent hunting scenes and birds for inspiration in the Florida marshes, coastlands and vast endless horizons of central Florida. She gravitated to plein air painting by recalling her grandmother's outdoor water color paintings on their family picnics. Her first and only child, Hudson Worthington Harr was often to be found looking up at his mom at the easel, and down at his lego creations. He continues the family's proclivity for creativity in his own way, with some physics in the mix.
After many years of painting, Nathalie sought to explore more possibilities with her style. She
worked toward a freedom from detail that her focus on drawing had evoked, and took a
workshop with Albert Handel. Two years later she sought an evolved color pallet and took a
workshop with Brian Blood.
She didn't seek fame and fortune as an artist, though has had some humble recognitions and a
good number of collectors. She eschewed competitions and an art career to enjoy the pure
creative challenge of making paintings. She is currently immersed in California landscapes,
painting directly from the inspirations she finds in hills and coastal locations. This new territory
is offering the open vistas she sought in Florida and the dramatic light she sought in the forests of North Carolina.
She spearheads two art shows per year where her work shows with her colleagues at 123 Art
Studios in Pittsboro, North Carolina. Her work is also on display at the North Carolina Museum
of Science. Additionally she participates in various shows.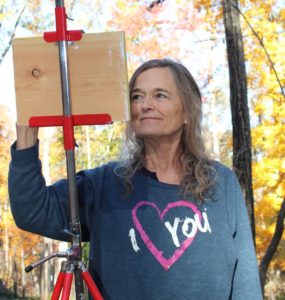 For more information about Nathalie Worthington, please visit http://worthingtonstudios.com/