The voting for Chatham Reader's Favorites has now closed.
Results will be announced in the October/ November issue of the magazine… stay tuned!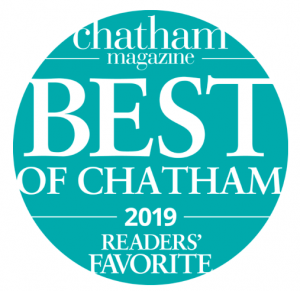 We've had the honor of being nominated for Chatham Magazine's
"Best of Chatham Reader's Favorite 2019"
SPRING ART SHOW AT 123 ART STUDIOS March 23 & 24, 2019 11am – 5pm
123 Art Studios proudly features the original paintings and drawings of North Carolina artist, Emma Skurnick, along with original creations by her students in the Open Studios Group and the artists of 123 Art Studios. The Spring Art Show hosts over a dozen local artists, wondrously varied in media, personality, and artistic process. Featured artist Emma Skurnick is a full-time artist, illustrator, and teacher of illustration and design. Her paintings have been exhibited nationally and published internationally. She received her undergraduate degree in Fine Art from Binghamton University, New York, and her graduate certification in Science Illustration from the University of California, Santa Cruz.
Emma began hosting Open Studio classes at her home in Bynum over 10 years ago. Since then, a creative, supportive community of artists has coalesced around her little gray studio with a bright green door. Artists who work in media as diverse as oil, watercolor and acrylic, botanical illustration, children's books, jewelry making, porcelain painting, and digital art gather on a weekly basis to receive feedback, renew their ambition, and share their studies with one another. A diverse group of artists from the Open Studio Group will be participating in the Spring Art Show, including: Hollie Taylor (jewelry), Faye Rogan (porcelain painting), Karen Sapir (botanical illustration), Marian Wall (nature scenes in acrylic), CathyLee Mahin (painted furniture) and Emma Skurnick (watercolors).
Artists from 123 Art Studios who will have their latest creations on display include: Zoe Allison, Joseph Asterita, RJ Dobs, Sarah Graham, Cat Manolis, William Moore and Nathalie Worthington. These works encompass a variety of media including acrylic and oil paintings, metal, stone sculpture, encaustic wax, jewelry, and others that simply defy categorization.
In addition to original artwork, prints, note cards, plates, and other items will be available for sale – friendly for any budget!
Wind your way through beautiful hardwood forest to Pittsboro's most hidden surprise – 123 Art Studios – for the spring installment of this semi-annual art show. Meet the artists, enjoy a bit of inspiration, refreshments and a relaxed atmosphere.
For more information about the event, the artists, or for a sneak peek of their art, visit: www.123artstudios.com and www.emmaskurnick.com.
THE POWER OF A PAINTING May 28, 2017
When you get right down to it, we are more connected to each other than we realize. Last weekend, a woman came out to support her friend Joseph Asterita, who is displaying his sacred geometry metal work. As she was exploring the rest of the barn, she stopped suddenly in front of a painting by Kathleen Jardine and exclaimed, "Hey, that's Ken! I know him!!" Ken, who she hadn't seen in nearly 15 years, was an old friend from Yellowsprings, OH. Five hundred miles and decade and a half later, she found herself in the most unlikely of reunions with her old friend.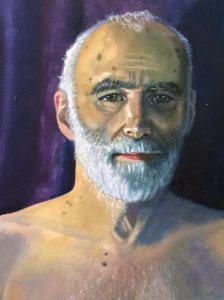 "Ken Nears Eighty I" by Kathleen Jardine, for full image see Kathleens' page
As artists, we are profoundly aware of the power art has. It can transport us through space and time. It can evoke a memory or an emotion, or even inspire a new way of thinking or seeing the world. And sometimes, a work of art can weave us back together in the most surprising and unexpected ways.
OPENING WEEKEND SUCCESS! May 14, 2017
After so many weeks and months of planning and preparing, waiting for that long distant day to arrive, it was, at long last, opening weekend!!
When you plan an event like this you can guarantee many things: the art, of course; the snacks and drinks; the signs to direct traffic from going down the neighbors' driveway by accident; even the music. But the one thing that you can never know for sure is, who will actually show up??
As the anticipation leading up to opening day mounted, we wondered and hoped and waited. And we were not disappointed. The opening was a huge success! We had a great turnout and folks really seemed to enjoy themselves. It was such a joy to see all the new and familiar faces, and to share in their wonder and appreciation as they explored each artists' section of the barn.
We're filled with appreciation for Mothers and graduates today, as the second weekend of the show winds down. What a perfect day! We're looking forward to the next three weeks and continuing to share this wonderful, eclectic collection of art with our friends, old and new.
UPCOMING SHOW, OPEN FRIDAYS, AND MORE! March 1, 2017
We were standing around chatting about Facebook and wanting to post some of the exciting happenings at 123 Art Studios. A lot is happening, but we had a spontaneous laugh when we all said at the same time,"We moved the Tensadore II!" So, what is a Tensadore II and why did we move it? It's an amazing canvas stretching machine for paintings: https://www.youtube.com/watch?v=fVrVWaRwoow That Youtube video shows a pro. Sarah and I aren't quite that proficient with our Tensadore, but we make up for efficiency with great laughs, and always wear our safety glasses !!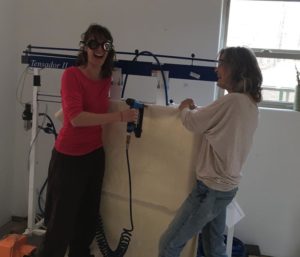 We moved the Tensadore II to get ready for baseboards in the entire studio. DJ used poplar wood sustainably harvested from the land around the house and art barn. This beautiful wood is lending itself to many great uses. Look at the Poplar Room, a beautiful new space culminating the efforts of three fine crafts people, Jim, Danan and DJ.

The Poplar Room now has a finished Dutch door complete with window!
Nine artists are preparing for our upcoming show, May 5th through June 4, 2017. They will use the space for creating in their various medium, and will create a world within a world of art. The show opens with a reception on Friday, May 5, 2017, from 11 AM until 7 PM. During the show, the studio will be open Fridays 12-7pm and Saturdays & Sundays 12-5pm. Exciting to mention is that the artists are using the studio space as they wish every Friday from now until the May show. Anyone is invited to stop by on a Friday and witness the creative process and to watch finished pieces emerge! Please send a note or call if you're planning to visit: art@123ArtStudios.com and phone: 919-338-1519
A very brief description of the art being made by these ten artists: Joseph Asterito works with "sacred geometry" to create his unique metal sculptures. RJ Dobs paints using encaustic wax, Colleen Black Semelka makes raku pottery, Nate Shaeffer creates light in color shaping neon glass as a sculptural medium, Nathalie Worthington paints landscapes of light in nature, Cat Manolis paints piquant statements including figures, Kathleen Jardine paints mesmerizing portraits in landscapes and still-life, Zoe Allison Rockingbear paints symbolic animals and totems in mystical landscapes, and Francis Shepherd uses fractal mathematics, color, line and shape to create amazing and abstract digital landscapes.